MANAGEMENT BOARD: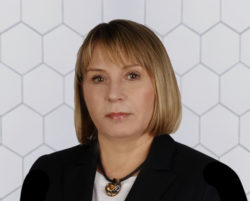 Joanna Chwietczuk – President of the Management Board

Since 2008, she has worked for Carlson Investment SE. She has extensive experience in the field of information obligations of public companies and ongoing contact with the Polish Financial Supervision Authority, the Warsaw Stock Exchange, and the National Depository for Securities. Graduate of the University of Silesia.
SUPERVISIORY BOARD:
Aleksander Gruszczyński – Chairman of the Supervisory Board
Manager with over 22 years of international experience gained in the management of large human resources teams, commercial real estate, IT, or corporate finance. He was responsible for the execution of multimillion transactions both on the European market and in the Persian Gulf or South-East Asia. He graduated from the First Private School of Business and Administration in Warsaw and completed an investment advisor course.
Artur Piotr Jędrzejewski – Member of the Supervisory Board
He has over 25 years of international experience in investment banking and private equity investments. He gained his professional experience in such financial institutions as Commercial Union Life Insurance Company Poland, Bank Pekao, BRE Corporate Finance, Gaudi Management. Member of many supervisory boards. Graduate of The University of Minnesota (MBA degree) and Warsaw School of Economics.
Paweł Szewczyk – Member of the Supervisory Board
He has over 20 years of experience in legal advisory. Specialist in commercial law, intellectual property law and industrial property law. He worked for the top polish law firm (e.g. Beata Gessel & Partners Law Firm). He is a graduate of Adam Mickiewicz University in Poznan.